Simoncini.Tangi's Artist book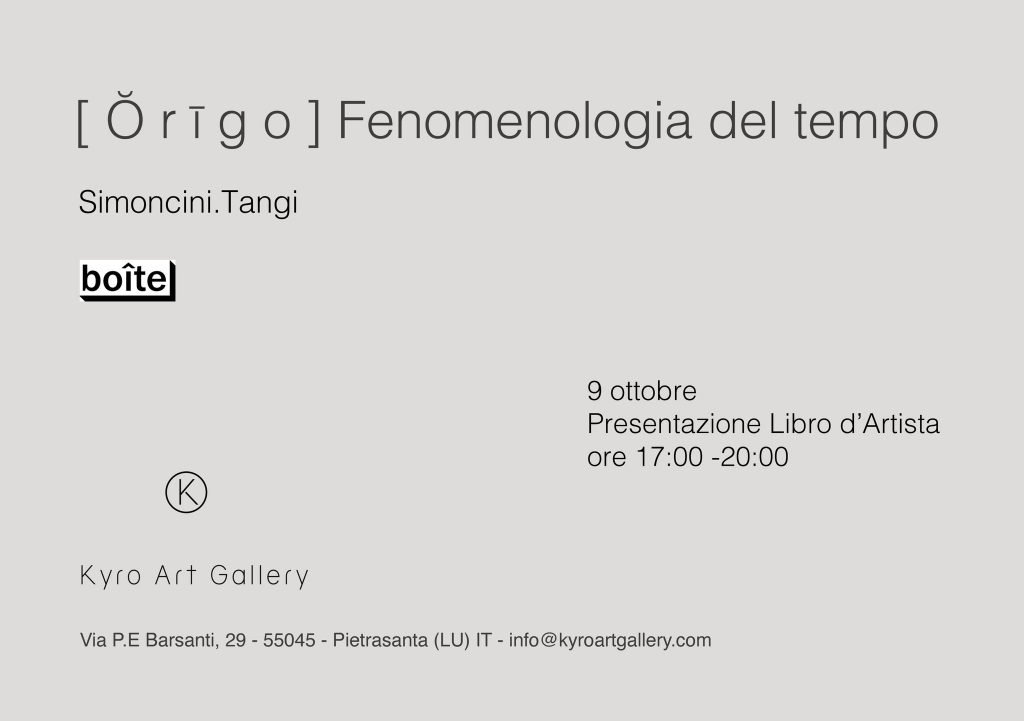 Simoncini.Tangi
[O R Ī G O] Fenomenologia del tempo Boîte Editions, 2021
Saturday, October 9 from 5:00 pm to 8:00 pm in Pietrasanta ( LU), Kyro Art Gallery will present first Simoncini.Tangi's artist book " [O R Ī G O]. Fenomenologia del tempo".
Simoncini.Tangi's research seems an alchemical process : it's not a scientific experimentation, it's not an aesthetic exercise, it is both at the same time.
They strictly proceed: their doing means expectation and changes' observation, nature's reading like a phenomenon which turns into the space and into time above all.
Book's texture, Crush Favini paper closed by scroll spyral , time taken to realize it describe artists' process in all respects : book is an ecologic tale, it unfolds like a living organism, every page is an en- tity that is able to multiply itself. This multiplication sometimes happens phisically, sometimes it happens in the reader's mind in order to silently reveal nature's magic.
[O R Ī G O]. Fenomenologia del tempo is a limited edition of 150 copies. They are all numbered and signed by artists . Ten of them are unique pieces ( from I to X) ( Deluxe editions) with artist's intervention and accompanied by a unique work. Fifteen pieces ( from 11 to 26) ( Special editions) are accompanied by a 14 x 21 cm sized photo. Remaining copies are Basic.