Collective art exhibition
From Tuesday December,8th 2020 to January,30th 2021
Next Tuesday, December,8 from 04.30 pm to 09.00 pm in Pietrasanta (Lu), Kyro Art Gallery presents the collective art exhibition " Praise to Lightness".
Our art gallery finishes 2020 with a collective exhibition by five artists : Giuseppe Ciracì, Marco Nizzoli, Rudy Pulcinelli, Eleonora Rossi and Raffaele Rossi.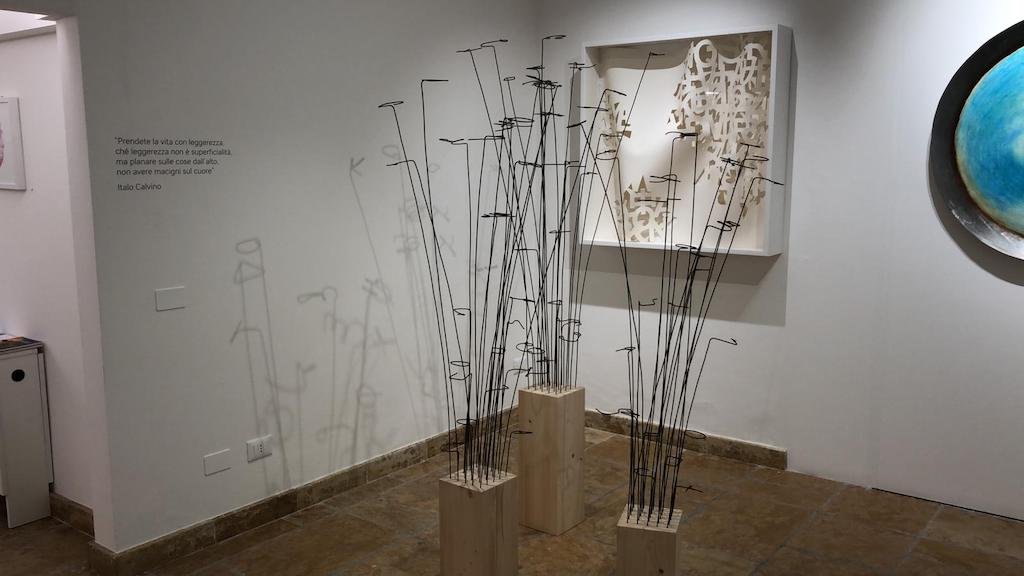 Central idea of works exposed is lightness, that pensive lightness so much beloved by Italo Calvino, that lightness which allows you to look things down upon, which allows you to get away from weight of living to which modern society has accustomized us, especially in this last year.
Lightness which does not estrange you from reality but allows to deepen it, gives you inspiration to create and to enter other dimensions where you can find stimulus and face the present, plans and dreams for the future.
"Take life lightly, for lightness is not superficiality, but a gliding over things from above, without letting things weigh on your heart" Italo Calvino American Lessons
Giuseppe Ciracì uses pages of history art books left to the elements for 90 days on Salento' sunny and windy terraces. After nature's intervention, pages are applied on canvas or papers, where the artist takes action with his painting or his drawing by merging with upmost lightness masterpieces of art history with his poetry.
Marzo Nizzoli realizes works by reusing several types of papers previously selected and kept with a collector's attitude. In this manner, he creates harmonic and light works by combining fragments by colour and texture.
Rudy Pulcinelli, he uses a light material like burnt iron wires and PVC. He looks for dialogue with the end user through letters of the most used alphabets. Today, it is about a more complex dialogue for sure as regards some years ago because of physical and social hindrances .
Eleonora Rossi presents two small canvas where two children are caught during afternoon nap , and a selection of watercolors whose theme is erotism. Female body is never represented in its completeness. It is about framings, shots which tell the same history made surreal by presence of hands nobody knows to whom they belong. Use of watercolors gives lightness and freshness to represented subjects.
Raffaele Rossi, Sky is the title of works realized by fresco's technique, natural pigments and oxydes. The artist paints heavenly images that emerge from dreamlike landscapes. It is about figures that often seems to lightly soar into the sky without a well defined destination.