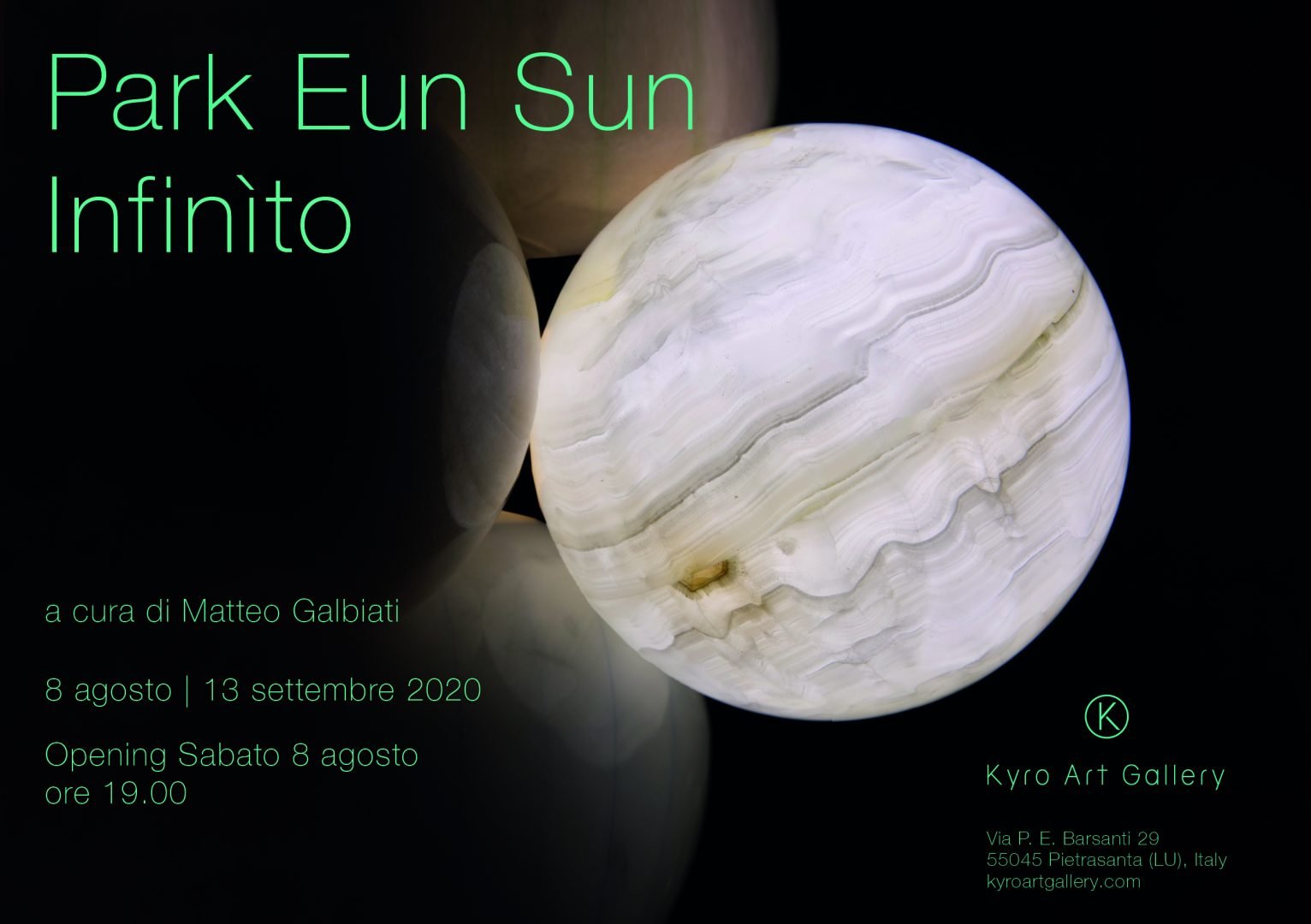 INFINITO ( INFINITY)
Edited by Matteo Galbiati
8 August- 13 September 2020
Launch Saturday 8 August at 07:00 pm
Saturday 8 August at 07:00 pm in Pietrasanta (Lucca), KYRO ART GALLERY will present the sculptor PARK EUN SUN''s personal show " Infinito " ( Infinity), edited by Matteo Galbiati.
KYRO ART GALLERY' summer goes on with a really particular project whose protagonist is the South-Korean famous artist Park Eun Sun. He already actively worked with the gallery in the past for various personal and collective shows; now, in close collaboration with gallery managers he has thought about a site-specific installation that is completely new both for works and for the proposed expressional contents.
In this staging " Park Eun Sun seems he wants to go beyond stones' borders, by cutting them loose their nature and by resetting them in other new expressive potentialities which amplify and highlight their poetic content always in trust with their expressivity"*. And he never deceives his language,made up of a solid interpretation of marbles' and stones' compactness, deriving from an extensive knowledge of used materials' peculiarities.
With a really extreme choice, the show so amounts today to a unicum in the whole of Park Eun Sun's joint of research that here just focuses on two works of strong visual impact. Sculpture, imagined and felt as " great" looks for a total immersion in the world's panoramic vision whose it's tangible and real part*".
Two columns are protagonists with KYRO ART GALLERY. " As stalactites or stalagmites they come from a very far time and contain in their own vital energy of our world*". It's about two earth-sky works which demolish perception of place and try a possible further extension that " lives through light. Choice for this monumental choice which tries to " essay desire of infinitive" in this multiple answers underlines more and more pulsation of aggregational forms of Park Eun Sun by acquiring the lighting theme as means to eradicate solid and impassive concreteness of marble, whose real phisicality changes in an alchemic way, thanks to knowledge that the artist has been able to get over the course of time and now it has become continual exercise of reading for his " doing" and " action" he sees injected in the mineral's coldness warm of real light*".
" Light stays inside and around the work and, despite lived in its atavic and atemporal conception, relaunches infinity in its dimension and its worldly truth by expressing it in a different dress which can reread each sensible side with which it is possible to investigate it*".
All visitors can compete with a different principle of Park Eun Sun's action that, in the extremely synthetic show, focuses all its contribution of autenthicity for a research which has always talked on the line of different cultures, where West and East embrace a common and similar vision and interpretation of mutual known differences. " Light, marble, geometry, simplicity of forms and of contents read largeness of freedom and so cann't be anymore held inside solidity of sculpture and, for this reason ,they seem ready to expand in the infinitive truth of space and of time*".
Catalogue is bilingual ( Italian and English), and has text of curator and works' images. It will be presented in gallery during the show's launch
*Quote from Matteo Galbiati's critical work
PARK EUN SUN
Park Eun Sun was born in 1965 in Mopko, South Korea. Discovery of painting arrives very soon in the artist's life who dreams to become a great painter. But when he was twelve his parents forbidden him to attend the Art School. His art teacher of middle school anyway noticed his skill and secretely allowed him to attend a class where to make practice. Park Eun Sun took part and awarded many painting contests for kids and his parents so allowed him to freely dedicate to art.
He moved to Seoul and attended the degree course to become Art Instructor at Kyung Hee University. After military service he worked in design for real estates and in this way he approached to space by conceiving its value and by studying environments.
Importance given to forms and to materials puts him close to sculpture, so bringing him to change studies'subject at Kyung Hee University, going from painting to sculpture. Discovery of materials passes from the starting use of clay to marble and still to granite. His consolidation as sculptor develops through several participations in collective shows and contests.
In 1993 he moved to Pietrasanta (Lucca), where he continues his studies at Carrara Academy of Fine Arts. His first personal shows take place in Florence in 1995, in Munich in 1996 and in Seoul in 1997. Park's sculpture develops in space's concept which is expressed by East cultures through surface's abrasion where cracks, lacerations and cuts live together which symbolize opening to human interiority and, at the same time, total destruction of material.
His works are linear and globural structures, forms, sphere, cubes and colums without any functionality but supported by allegories and symbologies where ideas and concepts conquer the surrounding space. Columns represent the metaphor " of birth and of arising spring , of embryo that according to nature happily develops in a child and in an adult, through column's representation with its shadows".
Park has exposed in galleries and museums in Italy ( Florence, Genoa, Pietrasanta, Rome, Turin, Verona, Padua, Milan) and abroad ( Belgium, Korea, France, Germany, England, Luxembourg, Holland, Panama, Poland, Singapore, United States, Switzerland).